A Visa can be the resource that you need for change the course of your life.
If you are thinking about a life change, you may be considering emigrating to the United States.
You may have a kinsman in USA, and thanks to that person you can reside in that country.
Checking the relationship with your family member is essential, that is why you need a DNA test to demonstrate the biological link, if you required a visa.
DNA testing is the only requirement to prove that you have a blood link with someone.
Just passing a sterile swab on the inside of the applicants cheek will be enough to do a DNA test.
But, is this test mandatory?
No, it is not.
And even in many cases they are the exception.
In most cases, you can prove your relationship for acquire your visa, with a birth certificate.
It is especially because the DNA test can be some expensive.
So generally they can be requested when there are few means to prove your link.
Or when there is high suspicion of it.
Once you are instructed to submit the DNA test to obtain the Visa, you can decide make the DNA test or not.
Besides, all the cost of the test must go on your account or on behalf of the applicant.
The amount for the test must be paid to the laboratory before it is performed.
If you need a visa, the DNA tests can only be performed in laboratories accredited by the AABB.
If the laboratory where the test will be performed is not listed, yourresults will not be accepted.
That is why we always recommend our DNA Testing centers.
At DNA Testing we handle the best costs on the market and fast results: in just 2 or 3 business days.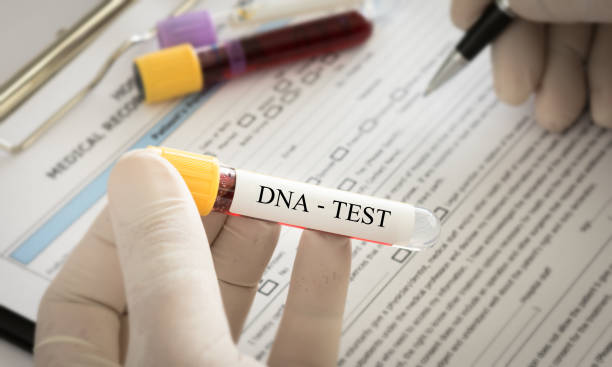 How long does your visa take after a DNA test?
Although the processing time for a visa is usually three business days, this time may vary depending on your case.
The time varies by case and cannot be predicted by individual case with precision. Some cases are delayed for the applicant
There is no specific time set to talk about visa delivery.
Each case is individual and independent.
If you are an applicant who follows the rules carefully, your visa will surely be available in the shortest possible time.
Sometimes the US sponsor or petitioner does not meet the requirements, which is why it is important follow to the instructions.
You should know that some visas require additional administrative process after the interview, so each case is different.
Administrative Processing
Some visa applications require additional administrative processing.
This may take longer after the visa interview conducted by a consular officer.
If you are an applicant, you will be warned about this requirement when you apply for your visa.
Most of the administrative proceedings are resolved within 60 days after your visa interview.
When administrative processing is required, the time will vary depending on the individual circumstances of each case.
I present you to request your visa in advance, well in advance of your travel date.
What family members can be claimed?
It is important that you know which members of your family are eligible for the Green Card benefit (permanent residence).
If you are in the USA, you are a resident and have a family member:
Wife / Husband
Children (unmarried and under 21 years of age)
Sons and Daughters (married and / or 21 years of age or older)
Parents, if you are 21 years of age or older
Brothers, if you are 21 years of age or older
If your family member is already in the United States legally, you can apply for an adjustment of status to become a permanent resident.
But if its is outside the United States, your petition will be sent to the National Visa Center (NVC).
The NVC will forward your petition to the appropriate US consulate, when a visa is available.
This whole process is known as consular processing.
The preferential category to which your family member belongs will determine how long they will have to wait to receive an immigrant visa number.
Once you have submitted your request, you can follow up on it.
How work the periods for one visa?
Times vary widely in US visa processing depending on your specific visa.
Some visas are processed in minutes. Other visas are processed in months.
If you need a temporary non-immigrant visa, it will be processed much faster than if you want a permanent visa.
If you are visiting the United States for business or pleasure temporarily, then your visa should be processed within a few days.
Immigrant visas, meanwhile, can take a few weeks.
Your application for an average US visa will be processed in 3-5 weeks.
Within 3 to 5 weeks of completing your application and having completed the interview at the embassy, ​​you will be able to know if your application has been approved or rejected.
If you provide your email, your passport will be sent in an additional 2-3 business days.
Your application may enter a period of limbo if it is rejected
You must wait approximately 60 days for your visa to begin processing.
This period runs from the day of your interview.
Conclusion
DNA testing is a valuable tool for you in many circumstances.
People are using DNA testing services for a wide variety of issues.
If you need to establish paternal / maternal origins and reconnect with your family members, you need a DNA test.
The USCIS and US embassies use DNA testing in US immigration cases.
If you don't have enough supporting evidence for a biological relationship with a relative, use DNA testing.
Immigration DNA tests (for visas) verify or deny family ties between a U.S. immigration applicant and the beneficiary.
It is difficult to predict exactly how long it will take for your visa to obtain a result from your DNA test.
Each case is independent and particular. Always keep in mind to comply with the guidelines to have a positive result.
If you need more information, do not hesitate to visit our website to learn about our services for visas and DNA tests.